Notes from Pastor Jon Anderson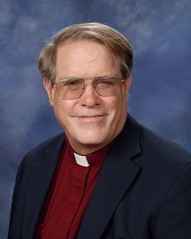 1 Corinthians 15:54b-56-" "Death has been swallowed up in victory." "Where, O death, is your victory? Where, O death, is your sting?" The sting of death is sin, and the power of sin is the law. But thanks be to God, who gives us the victory through our Lord Jesus Christ."
In my last column, I talked about Ash Wednesday and how the ashes remind us of death. Since then, in our communities we've had a great many reminders of death. This coming week alone I'll be doing two funerals. I'm also seeing someone else who is in Hospice care. The Easter season is close at hand as I write this, and yet we are still surrounded by reminders of death. But each year I am thankful for Easter, because Easter reminds us that though death is all around us, it does not have the final word. The final word belongs to Christ, who conquered death by rising on the third day. Death could not hold Him captive-and death will not hold us captive either.
As usual, I began Lent this year by smearing ashes on the foreheads of men, women, and children, telling them all, "You are dust, and to dust you shall return". I am saddened when I look into all those faces and realize the truth of that statement. But I rejoice to realize that just as God formed us from the dust of the earth, so has God formed us into new creations by the death and resurrection of Christ. Because of Jesus' resurrection, we can look forward to the greatest family reunion ever being reunited with all our friends and relatives who have shared our hope, and meeting all the brothers and sisters in Christ from around the globe that we have never met. Easter renews our hope of life eternal-our faith that this fragile, dusty life isn't all there is-that God has a life planned for us filled with new unimagined surprises-a life that will never end.
May you have a happy and joyous Easter, and may God's precious peace be with you.
~Pastor Jon Anderson